OUT OF STOCK

Muscle BioAmp Shield
This is an all-in-one Arduino Uno Shield for Electromyography (EMG).
You can record, visualize and hear your EMG easily using Muscle BioAmp Shield. Additionally, it allows you to control things with ease using the OpenSource Arduino sketch library. The v0.2 of the device comes preassembled!
Out of stock
Description
The Muscle BioAmp Shield is a piece of hardware specifically made for neuroscience enthusiasts and it is heavily inspired by the DIY Muscle SpikerShield from BackYard Brains. It allows you to perform all the experiments that you can perform using the SpikerShield and even more. The Muscle BioAmp Shield allows you to record the signal via a direct connection from Arduino to PC and using Spike Recorder software on your Mobile & PC. You can visualize the EMG signal on the LED bank of the shield, it can also be done via the Spike Recorder App, and the Arduino serial plotter is also a good visualization software for the Muscle BioAmp Shield. You can also hear the signal using a pair of headphones or on a portable speaker using the audio cable provided with the Muscle BioAmp Shield. This is an all-in-one package for all the neuroscience enthusiasts out there looking for something affordable and fun!
The shield can be used for very cool projects like,
Prosthetic arm controller.
Muscle strength meter.
Neuroscience learning kit.
EMG analyzer
And more….
Everything you need to start learning about EMG (besides the Arduino UNO and 9v battery) is provided in the kit. The kit includes,
Muscle BioAmp Shield v0.2 (PreAssembled).
BioAmp Cable – 50cm
Audio interface cable
9v snap cable
Gel electrodes – 15pcs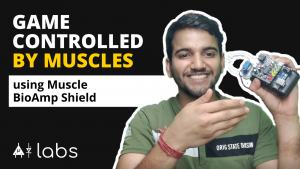 Want to know more about the game? Click the above picture and see an awesome video!
Additional information
| | |
| --- | --- |
| Gel Electrodes | Oval Gel Electrodes, Pediatric Gel Electrodes, Rectangular Gel Electrodes |