What is BioAmp v1.5?
It is a small size portable biopotential amplifier with a no code setup to record and listen to your muscle signals (EMG) non invasively. The best part is that it doesn't require any microcontroller (like Arduino) to sample the signal. You just plug a 9V battery into the board, electrodes to the body, and an audio jack to a mobile/laptop, and you are ready to record signals from muscles (EMG) using audacity or Backyard Brain's spike recorder app.
What's included in the kit?
BioAmp V1.5 PCB
All the passive components required in the PCB
BioAmp AUX Cable
BioAmp Cable v3
9V Snap Cable
Muscle BioAmp Band (EMG Band)
Boxy Gel Electrodes x 15
Note: 9V battery is not included in the kit!
Assembling the Kit:
Follow the steps below to solder all the components provided on BioAmp v1.5 PCB carefully. Follow this link for a complete tutorial on how to properly solder the components on any PCB.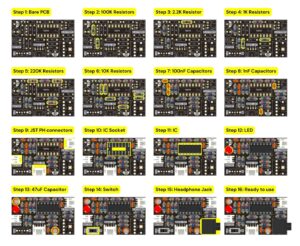 Connection Diagrams: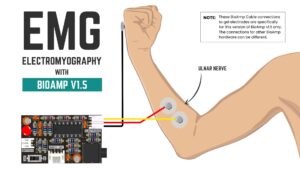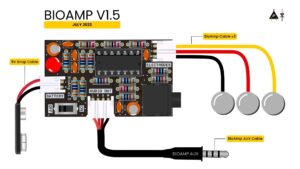 How to use it?
To start using the fully assembled Upside Down Labs BioAmp v1.5 you require a 9v battery (not included in the kit). After doing that you have to connect
1. 9v Battery to power input.
2. Electrodes to the body using BioAmp Cable (see the connection diagram above).
3. 3.5mm BioAmp AUX cable to phone/laptop with recording software installed.
Recorder software links:
1. Audacity for PC (if you are using Linux you can get it from your distribution software repo)
2. Backyard Brains Spike Recorder for both PC and smartphone