-50%

Muscle BioAmp BisCute (DIY)
Muscle BioAmp BisCute is a small and most affordable DIY muscle sensor for precise EMG sensing. It is a Do-It-Yourself (DIY) version of Muscle BioAmp Candy
* Note: Free BioAmp accessories offer valid till stock lasts.
7 in stock
Description
It is a small and affordable single-channel DIY muscle sensor for precise EMG sensing. It is a DIY version of Muscle BioAmp Candy that can be used to make amazing Human-Computer Interface (HCI) projects. What are you gonna make with it?
What is EMG?
Electromyography (EMG) is a technique for evaluating and recording the electrical activity produced by skeletal muscles.
Electromyography is used in:
Prosthetic hands, 

Human augmentation, 

Games controllers, 

Rehabilitation and 

Physical therapy to name just a few.
Even doctors are using them for the diagnosis of various neuromuscular ailments.
Assembling the Kit:
It is a DIY (Do-It-Yourself) Kit that comes with Muscle BioAmp BisCute PCB and the passive components (ceramic components, electrolytic capacitors, resistors, Quad OpAmp). You can assemble it in some simple steps that are given below.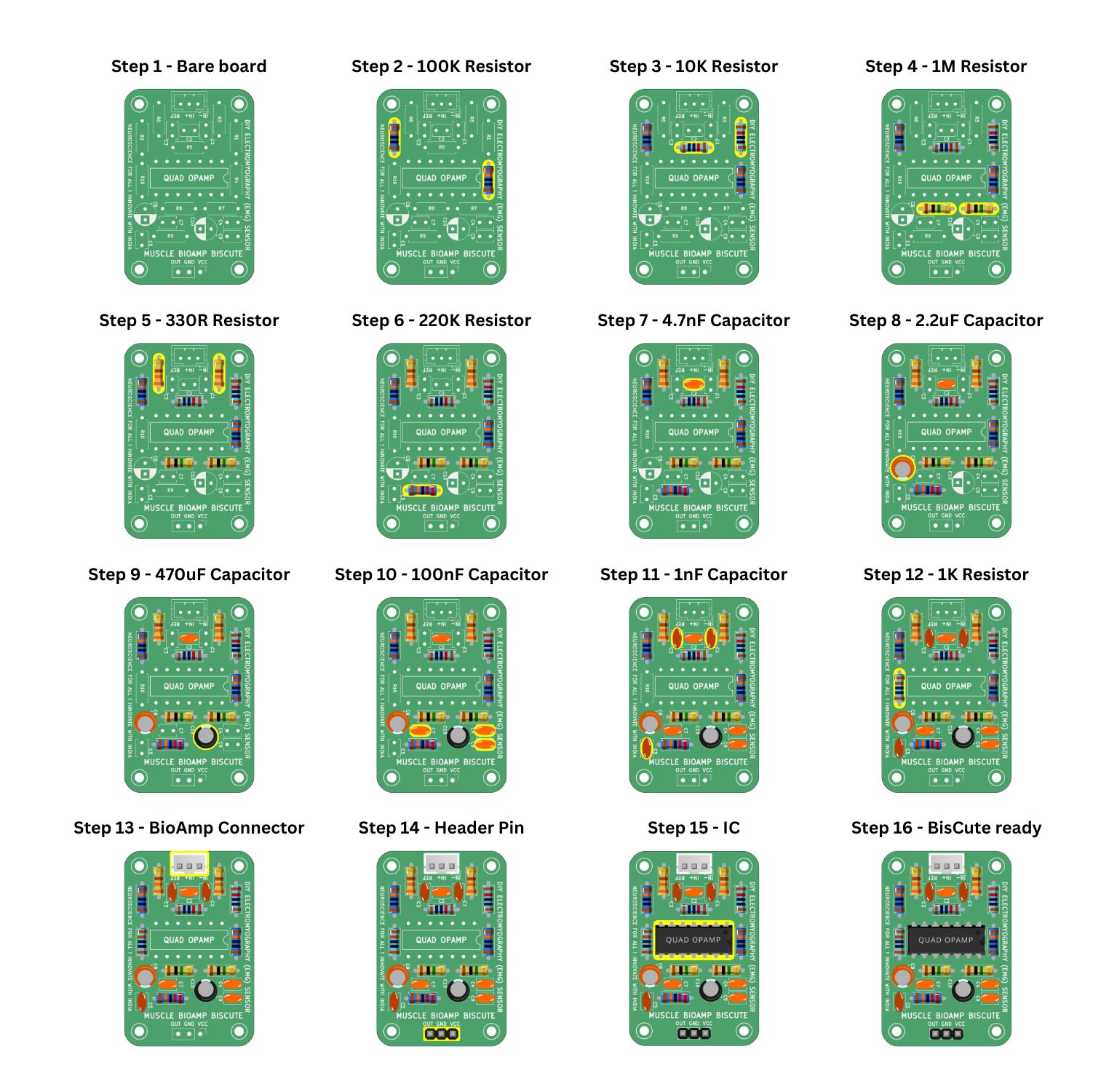 Connecting with Arduino and BioAmp Cable:
After assembling the kit, you can pair it with any development board with an ADC (Arduino UNO & Nano, Espressif ESP32, Adafruit QtPy, STM32 Blue Pill, BeagleBone Black, Raspberry Pi Pico, to name just a few) or any standalone ADC of your choice.
To measure the EMG signals, just connect either BioAmp Cable v2 or BioAmp Cable v3 with the Muscle BioAmp BisCute as shown in the images below and get started.

How to use it?
Contents of the Kit: 
Muscle BioAmp BisCute PCB.
Passive Components

Ceramic capacitors.
Electrolytic capacitors
Resistors
Quad OpAmp

Free* BioAmp Accessories Kit,

*3 Gel Electrodes.
Muscle BioAmp Band
3 Jumper Cables
*Note:
Gel electrodes should only be used once, and discarded afterward – treat them like sterile medical products!
Muscle BioAmp BisCute comes with 3 electrodes but you can easily buy them online either from us or any other vendor.
BioAmp Accessories Kit is free till the stock last.
Features & Specifications:
Input Voltage: 3.3 – 30 V
Input Impedance: 10^11 Ω
Fixed Gain: x2420
Bandpass filter: 72 – 720 Hz
Compatible Hardware: Any ADC input
BioPotentials: EMG
No. of channels: 1
Electrodes: 3
Wearable: Yes
Dimensions: 35 x 15 mm
Designed for Use With a Carrier Board: Yes
Open Source: Hardware + Software